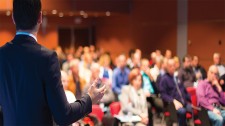 The area's top healthcare providers will come together to discuss the new age of healthcare, business strategies, and how to help more patients on March 4th-5th in Orlando, FL, hosted by FYZICAL. The group will consist of business experts and healthcare professionals; including doctors of otolaryngology, audiology, neurotology, physical therapy, and more.
Orlando, FL, January 13, 2017 (Newswire.com) - Speakers will address dangerous trends facing private practice business owners in the changing healthcare climate.
The event will showcase a new approach to wellness with emphasis on proactive, preventative care as opposed to reactive, well-care. Events will cover how physical therapists and MDs can take advantage of business expertise & guiding principles to run a profitable private practice.
This will allow them to focus on fall prevention and improving patient outcomes. Why is this important?
Facts about Falling:
Falls are the leading cause of death due to injury among the elderly1
1/3 of the population over 65 falls each year2
Falls account for 25% of all hospital admissions and 40% of all nursing home admissions1
In 2015, the total cost of fall injuries was $34 billion
Past attendees have commented on this event, stating:
"Speakers were on point! System was run flawless" – Gerald D, Philadelphia, PA​
"Learned about what the future holds for the private practice practitioner and how we can survive." – Juan M., McAllen, TX
"Excellent. Possibly the event that will advance private practice. The vehicle that truly cares for people into the future." – Steve T, Fitzgerald, GA
Revolution events focus on business systems that optimize patient care and create wealth for private practice owners. The group is growing quickly, attracting over 200 new members in 3 years. Private practice owners are encouraged to attend this event, and can register for an informational event by visiting www.fyzicalfranchise.com.
1. National Council on Aging: https://www.ncoa.org/news/resources-for-reporters/get-the-facts/falls-prevention-facts/
2. Centers For Disease Control: https://www.cdc.gov/injury/pdfs/Falls2009CDCFactSheet-FINAL-a.pdf
Contact
Kevin Mercier​
FYZICAL Therapy and Balance Centers
(941) 210-5630
kmercier@fyzical.com
Source: FYZICAL
Share: