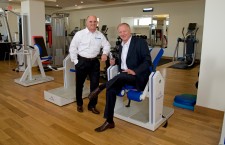 Private practice healthcare providers owning their own business are plagued by a lack of business training, and FYZICAL Therapy & Balance Centers can solve this problem, National Franchise Expansion Manager Chris Hincker says.
Sarasota, FL, February 10, 2017 (Newswire.com) - ​​​Based in Sarasota, FL., the company provides physical therapy, medically based fitness, whole health training, balance and vestibular therapy, and sports rehabilitation in over 200-plus locations across 34 states. Jim Abrams and a group of partners founded FYZICAL in 2012, and started offering franchises in 2013.
"Jim has a very successful and illustrious business background," Hincker says. Abrams' resume includes national brands such as Weight Watchers, The Mutual Fund Store, Mister Sparky, Benjamin Franklin Plumbing, and One Hour Heating & Air Conditioning.
"A primary challenge being faced across all of healthcare is declining reimbursement. It is a business challenge that must be addressed... you must have a plan."

Chris Hincker, National Expansion Manager
After making his mark in multiple industries, Abrams saw an opportunity with FYZICAL to help not only patients, but healthcare providers, and create a business model that drove down healthcare costs through preventative medicine.
Initially, the company's focus was on recruiting physical therapists that owned existing centers and converting them to the FYZICAL model. In June 2016, FYZICAL began working with otolaryngologists by establishing FYZICAL as add-on, ancillary service to their existing practice focused on vestibular and balance dysfunctions. Most recently, audiologists have been provided the opportunity to add FYZICAL to their practices too.
"We're adding, on average, two new franchisees every week," Hincker says. "We're very confident that we'll hit our projected 500 locations in the United States, as well as expand internationally, by year end 2018."
Fighting the Fall
FYZICAL gives healthcare providers the expertise they need to run a business, Hincker says. "There's a phenomenal amount of training required for physical therapists, audiologists and otolaryngologists (ENTs), but there is no formalized business training associated with these specialties. They went to school to learn the science of medicine; we provide them with the science of business."
FYZICAL franchisees address a previously unmet need to serve people with balance and vestibular dysfunctions. As the U.S. population continues aging, this portion of the customer base will only grow, Hincker says. "We have 10,000-plus baby boomers retiring every single day."
With this in mind, FYZICAL intends to "fight the fall, and help stop America from falling," he says. "We are becoming known as the place to go for fall risk patients. It's an initiative that we're very serious about."
FYZICAL will help prevent numerous deaths and injuries over the next several years through these efforts, Hincker says. "We expect to save more lives through the prevention of deadly falls than the lives taken from gastric and esophageal cancer combined."
The Right Approach
FYZICAL established its first franchise a little over three years ago. Although it is a relatively young company, Hincker credits the rapid success to an innovative business model that takes into account the changing landscape of the healthcare system.
"A primary challenge being faced across all of healthcare is declining reimbursement. It is a business challenge that must be addressed," Hincker says. "You must have a plan."
FYZICAL's model addresses this through a combination of different items. "First, we are able to help our franchisees become maximally efficient as they exist today," he says. "We help them improve profitability and efficiency with their current business."
The company does this through the business management expertise provided by founder Jim Abrams. The next step, if the business owner desires, is growth. FYZICAL helps grow these practices by helping them add services they do not already provide, such as balance and vestibular rehabilitation. Additionally, FYZICAL helps franchisees implement a variety of strategies to generate cash-based revenue, non-dependent on the declining insurance reimbursements, and based on residual income through both services and products, Hincker says.
Furthermore, the FYZICAL model generates relationships through membership in wellness and preventative programs associated with the therapy offering. "We are the only healthcare organization looking towards prevention with an approach that we know will be successful not only today, but in the future," he says.
Invaluable Support
FYZICAL provides strong support for its franchisees, which begins with a strategic session for tailoring the business plan to the franchisee's goals. "As a business owner of any kind, existing or start-up, that's invaluable," Hincker says. "They spend an entire day working with our executive team and that is just the beginning."
The company also ensures that its franchisees operate on protected territory. "The exact size of that territory is determined by the franchisees themselves," he says. "We know, based on our minimum territory requirements, no franchisee will ever cannibalize or detrimentally affect the success of another franchise."
FYZICAL plans to increase its notoriety in the United States, Hincker says. "As we look to the future, FYZICAL has the potential to become one of the largest brands in all of healthcare."
"In the short term, we will grow our impact here in the United States while continuing to provide the utmost in patient care," he asserts. "Long term, we will grow our brand and better the quality of healthcare in the global market. I invite you to explore the FYZICAL opportunity at www.FYZICALfranchise.com."
Source: FYZICAL
Share: